Topic: How do you become a Data Scientist? Best practices for aspiring data professionals.
Brief: As an aspiring data scientist, you might have lots of questions. I'll answer all of them in this live webinar! We'll talk about:
The Data Scientist mindset. Habits, skills and attitudes that good Data Scientists have.
What do you need to learn to become a data scientist?
How much time does it take? Weeks? Months? Years?
Where to learn? Should you go to a university? Or should you learn online?
How do you practice data science?
How do you get your first job?
How to pass the job interview?
What's a sufficient level of knowledge to apply for junior data positions?
I work with aspiring data scientists every day in my Junior Data Scientist online courses. I have 1-on-1 Skype sessions with many of my students. I try to help them with their career goals, and after the course I follow up with them. (And I'm proud to say that some of them have already landed data science positions!) This presentation is based on their experiences as well as mine!
Join this quick 30-minute webinar – with a 30-minute Q&A session at the end – and get all the answers!
Date/Time: 11 September 2018, Tuesday, 6pm-7pm (CEST timezone)
Location: Online (Register for the link!)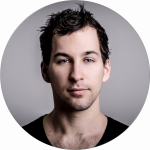 Presenter: Tomi Mester, author of Data36
The webinar is free, but you need to register to get the link. Registrants will get a recording of the webinar, too.
This is not a Newsletter subscription. Your e-mail address is used only to send you information about the webinar. Obviously, I won't give out your email address to anyone.