Topic: How do you become a Data Scientist in 2018? Best practices for aspiring data professionals.
Brief: You as an aspiring data scientist might have many questions:
What do you need to learn to become a data scientist?
How much time does it take? Weeks? Months? Years?
Where to learn? Should you go to a university? Or should you learn online?
How do you practice data science?
How do you get your first job? What can you expect in a job interview?
What's a sufficient level of knowledge to apply for junior data positions?
I know these are the most common questions because I work with aspiring and junior data scientists every day. Join this quick 30-minute webinar – with a 30-minute Q&A session at the end – and get all the answers!
Date/Time: 11 April 2018, Wednesday, 10:00-11:00 (CEST timezone)
Location: Online (Register for the link!)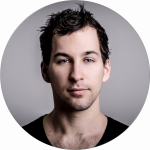 Presenter: Tomi Mester, author of Data36 (more info about me: here)
The webinar is free, but you need to register to get the link. The registrants will get the recording of the webinar, too.


This is not a Newsletter subscription. Your e-mail address is used only to send you information about the webinar. You will get 3 e-mails: a confirmation after you register, a reminder one day before the webinar and a follow-up email after the webinar. Obviously, I won't give out your email address to anyone. And if you want to subscribe to my weekly Newsletter, you can do that here.